Start of main content
Course
Safety Critical Systems
Location and date
March 2024, Live virtual
The course is comprised of three parts, with the first part undertaken on our e-learning platform in your own time in advance of parts one and two.
Intensive learning in three parts
Delegates will receive a link to part one of the course upon registration. It is mandatory to complete part one before attending part two and three.
At a glance
Duration: two days
CPD hours: 14
UK-SPEC: A,B,E
This course will focus on the achievement of functional safety of electrical, electronic and programmable electronic safety-related systems in accordance with IEC 61508.
Register your interest
Who should attend
Control and Instrumentation Engineer
Electrical Design Engineer
Electrical and Control Engineering Surveyor
Loss Prevention Consultant
RF and Microwave Systems Engineer
Safety Consultant
Senior System Engineer
Specialist Inspector / Safety Assessor
Nuclear Safety Engineer
Lead Control and Instrumentation Engineer
Senior Hardware Engineer.
Why should you come to the SCS course?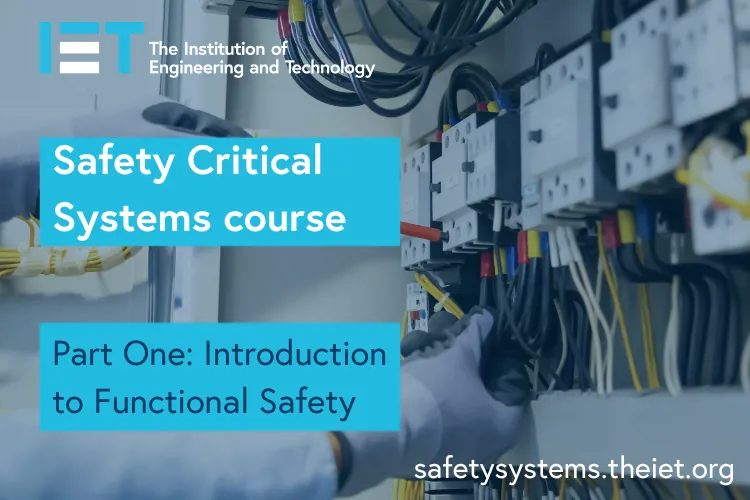 Part one: Academy E-learning course
Please note that all delegates will be sent the link to access part one: Introduction to functional safety after they register.
It is mandatory to finish the self-learning course through IET Academy before taking the online course with the trainers. you may find yourself using 22-30 hours for the self-learning course so please leave enough time for it.
Sponsorship opportunities
We bring together the engineering and technology community and offer sponsors a highly engaged audience who are keen to do business, network and learn.
Whatever your aims, our solutions team will work with you to find events and promotional packages relevant to your business.
Find out more about our sponsorship opportunities